Get the Most Competitive Price for Your Old Railcars & Rails
Huntington Machinery is a leading scrap metal recycler of railcars and rails since 1990. Our company buys all grades of scrap iron and metals. We strive to pay the most competitive prices, and our customers can depend on fast and friendly service. In addition, customers will find we provide modern unloading equipment to ensure the best quality service. We can also provide a wide variety of containers to your project needs.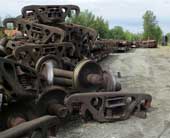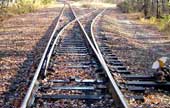 Our ability to recycle the materials saves you money, and our strategically located facility will save you time. If it rode on rails, we can recycle it. Our experienced staff works hard to ensure that you get the best deal possible for your rail cars and rails. Through our rail car and rail disposal services, we can safely remove any unused or outdated structures from your property, increasing the value of your property while also earning you money for the recycled materials.
What sets us apart from other companies is our integration. When locomotives and railcars are retired, we completely remove them for complete recycling. When track is removed we in turn are simply recycling the material that is no longer viable. Our ability to safely recycle material allows us to offer a full range of products and services to our customers, making us the number one choice for all of your rail and recycling needs. Huntington Machinery is here to help you with the removal and recycling of your railcars and rails with their knowledge of recyclable metals.

Need Help? Give us a call and we can help you get top return for your railcars and rails.
Call (248) 379-0368 Today!